From 09:00 AM (EST) on February 27, 2021 until 09:00 PM (EST) on February 27, 2021, this site will be under maintenance.
Please be aware that some of the site functionality will be unavailable during this time.
---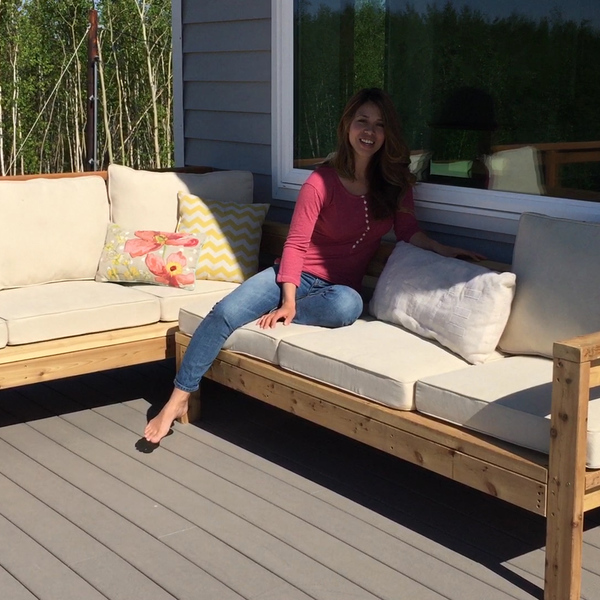 This Outdoor Sofa Sectional Piece is a great way to expand your already existing Outdoor Couch into the perfect L-Shaped or U-Shaped Sofa!
Show More
---
Project Steps

Step: 1

Cut List: (3) 2x4 @ 70-1/2" (10) 2x4 @ 25-1/2" (includes back support) (1) 2x4 @ 12-1/2" (6) 2x4 @ 72" (1) 2x4 @ 70-3/4" (back support--cut to fit)

Step: 2

Build the seat framing using 2-3/4" screws at all joints, 2 per joint. Recommend using an exterior grade glue. Check seat framing for square by taking diagonal measurements from opposite corners and adjusting until the two diagonals are equal.

Step: 3

Build one arm using 2-3/4" screws. The center support on edge is flush to the inside and will be used to tie in the seat framing in next step.

Step: 4

Attach seat framing to arm using 2-3/4" screws. Use at least 8 screws here, more may be needed depending on the strength of your screws. This joint supports the weight of one side of the sofa.

Step: 5

Add legs on armless side. Make sure the legs are attached square to the seat framing. Use 2-3/4" screws.

Step: 6

Drill two pocket holes set for 1-1/2" thick material on one end of the back 2x4. Attach to the arm top board with 2-1/2" pocket hole screws. Then attach opposite end of back to top of single back leg with 2-3/4" screws.

Step: 7

Lay seat boards down on seat and screw down, keeping outside edges flush with approximately 1-1/2" gap in between boards. Screw to all seat framing boards with 2-3/4" screws.

Step: 8

To add the optional back supports, to the arm, first screw the remaining 25-1/2" long 2x4, inset ¼" from the inside of the arm. Use 2-3/4" screws.

Step: 9

Measure and cut to fit the back support board. Screw from both the arm, back leg, and top with 2-3/4" screws.

Step: 10
---
Members Also Viewed
back to top?
Please confirm your email address.
Select some categories to pick the kinds of projects that show up on your home page:
Welcome to your RYOBI Nation quick start guide, a fast and easy way to see everything that's waiting for you!
Your feed shows the latest projects from the categories you've selected, right on your homepage!
Are you working on something awesome? Upload your DIY projects today, and share with other members.
We award monthly and annual prizes for the best projects, worth up to $2500 in RYOBI tools! That's a lot of hardware, and it could all be yours.
RYOBI Nation is a positive connection between people who are creating great things.
You can follow fellow members, like their projects, and comment to let them know they're doing a great job.
Come back to RYOBI Nation often to see what is new and to stay in touch.
If you're on a mobile device, don't forget you can add RYOBI Nation to your home screen for quick access to your project feed.
---
Outdoor Sofa Sectional Piece
by Ana White
May 28, 2015
This Outdoor Sofa Sectional Piece is a great way to expand your already existing <a href="https://www.ryobitools.com/nation/projects/2651" target="_blank">Outdoor Couch</a> into the perfect L-Shaped or U-Shaped Sofa! <a href="https://www.ryobitools.com/nation/projects/2651" target="_blank">Outdoor Couch</a>
Project Information

| | |
| --- | --- |
| Difficulty: | Easy |
| Categories: | Furniture, Exterior Spaces |

Tools Used

18V ONE+™ RANDOM ORBIT SANDER
18V ONE+™ 6 1/2 IN. CIRCULAR SAW
18V ONE+ HP COMPACT BRUSHLESS 1/2" DRILL/DRIVER KIT

Materials Used

(5) 2X4 @ 12 FEET LONG - CUT THE 70-1/2" AND 72" LONG PIECES FROM THESE BOARDS
(4) 2X4 @ 8 FEET LONG - CUT THE REST OF THE BOARDS FROM THESE BOARDS
2-3/4" SELF TAPPING EXTERIOR DECK SCREWS
EXTERIOR GRADE GLUE
Project Steps
Step: 1

Cut List: (3) 2x4 @ 70-1/2" (10) 2x4 @ 25-1/2" (includes back support) (1) 2x4 @ 12-1/2" (6) 2x4 @ 72" (1) 2x4 @ 70-3/4" (back support--cut to fit)

Step: 2

Build the seat framing using 2-3/4" screws at all joints, 2 per joint. Recommend using an exterior grade glue. Check seat framing for square by taking diagonal measurements from opposite corners and adjusting until the two diagonals are equal.

Step: 3

Build one arm using 2-3/4" screws. The center support on edge is flush to the inside and will be used to tie in the seat framing in next step.

Step: 4

Attach seat framing to arm using 2-3/4" screws. Use at least 8 screws here, more may be needed depending on the strength of your screws. This joint supports the weight of one side of the sofa.

Step: 5

Add legs on armless side. Make sure the legs are attached square to the seat framing. Use 2-3/4" screws.

Step: 6

Drill two pocket holes set for 1-1/2" thick material on one end of the back 2x4. Attach to the arm top board with 2-1/2" pocket hole screws. Then attach opposite end of back to top of single back leg with 2-3/4" screws.

Step: 7

Lay seat boards down on seat and screw down, keeping outside edges flush with approximately 1-1/2" gap in between boards. Screw to all seat framing boards with 2-3/4" screws.

Step: 8

To add the optional back supports, to the arm, first screw the remaining 25-1/2" long 2x4, inset ¼" from the inside of the arm. Use 2-3/4" screws.

Step: 9

Measure and cut to fit the back support board. Screw from both the arm, back leg, and top with 2-3/4" screws.

Step: 10