Return to Projects Listing
Dice Tower
A friend of mine asked me to make this for him, I had never heard of a dice tower before but after making one, I think I need one. The best and worst feeling was showing my 14 year old and she was like "whoa, are you an inventor?" Nope, not my idea, but I didn't follow any plans, just started cutting and went where the project took me.
I used a 1x6 to cut all the pieces from and ripped a few down on my #tablesaw. I glued and clamped everything step by step, which was the most annoying part, adding one piece then waiting for the glue to dry. For the parts that "roll" the dice it's two 45 degree angles cuts for the top and bottom and a 45 "triangle" (which reminds me of excitebike) glued to the frontside of the tower. Then I cut a piece of cardboard to fit and used my glue gun to wrap the felt around and glued that entire piece down to the bottom. I did use the airstrike nailer but mostly for piece of mind since I was making for someone else.
This is an "Easy" project if you have the right tools, primarily the miter saw and table saw
---
---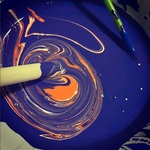 Project Information
Difficulty: Easy
Tools Used:
also by DI Y did I try that?
---
Related Projects